North College Marketplace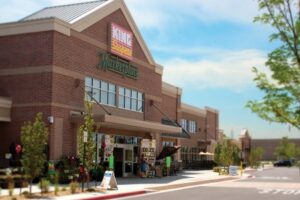 Developer: Loveland Commercial
URA Participation: $8 million in property TIF
Total Project Cost: $40 million
Completion Date: Summer 2011
A local real estate and development company, Loveland Commercial, LLC, is building a large retail center anchored by a 123,000 sq. ft. King Soopers, on East Willox Lane and North College Avenue.
It is the first "marketplace" concept for King Soopers on the Front Range. The new design offers both general merchandise (clothing, electronics, etc.) and a traditional grocery market.
In addition to the large King Soopers, there are multiple pad sites for banks, restaurants, retail, fast food and a gasoline pad. Total retail space equals 175,000 sq.ft.
The North College Marketplace is taking shape in a previously blighted, under-developed area of north Fort Collins. Due to extraordinary project site constraints, the URA is investing in public improvements of infrastructure.
Financial investments include:
Demolition and clean up of blighted area
Off-site street improvements -Wetlands mitigation and enhancements
Gateway features and landscaping
Utility infrastructure
The 26-acre catalyst project promises to be a significant retail destination with future property tax income exceeding $15 million through 2029.